If you own a carbon steel skillet, cooking is always a pleasure. You can create a dazzling array of delicious dishes, from tender eggs and sauteed vegetables to elaborate nutritious woks. Our seared skillet chicken thighs are easy to cook, and they can make a wonderful weeknight meal or formal dinner. This versatile dish can be combined with a wide range of sides, from mashed potatoes to Lebanese rice. Your irresistible balanced meal will be ready in just 15 minutes!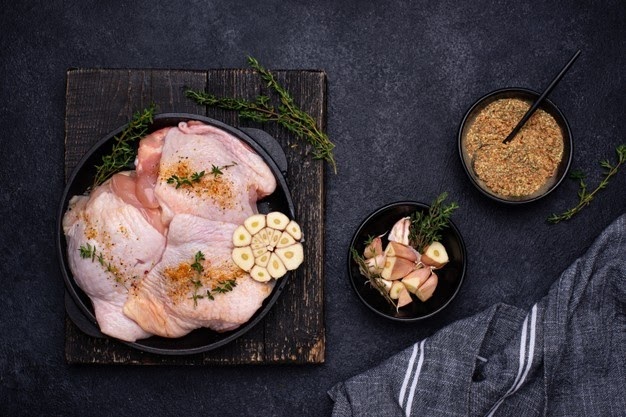 How to Cook Chicken Thighs in a Carbon Steel Skillet?
Carbon steel by Yosukata provides a healthy and hassle-free way to cook chicken. Its coating is absolutely natural, you can use less oil, and the ergonomic shape makes the skillet easy to move around. If you have just bought your skillet, season it with vegetable oil first (you can find detailed instructions in the Yosukata blog). Using the best skillet chicken thigh recipes, you can cook poultry quickly in just a few steps. After trimming extra fat from the thighs and patting them dry, you should rub them with a special mixture of spices. Then, sear the meat on your skillet allowing each side to cook evenly until golden brown. The chicken broth added in the end will deglaze the skillet and mix with the meat juices to make a delicious sauce. As long as your skillet is seasoned properly, you will enjoy non-stick cooking every time. If the thighs stick to the surface, do not panic! This only means they are not ready yet. Wait a few minutes before trying to flip them again. When the meat is cooked, it will come off the surface easily. Learn how long to cook chicken thighs in a skillet in our guide below.
Ingredients for Skillet Chicken Thigh Recipes
Cooking chicken thighs in a skillet does not require much effort or many ingredients. The spices are found in most households, and you can also modify their combination to your liking. Basically, all you need is some chicken thighs, a spice mix for seasoning, and some broth. You can boil a portion of chicken thighs before searing the rest.
Recommended Products for Skillet Fried Chicken Thighs
Are you expecting guests? Doubling or even tripling the recipe is acceptable provided that you stick to the instructions. Do not overcrowd the skillet (more on this below). Cook in batches to prevent sogginess.
1Chicken thighs
This recipe requires 1.5 pounds of boneless skinless thighs. Before searing, you should thoroughly rub them with spices to enhance the flavor.
2Spices
To create an irresistible Mediterranean flavor, you will need a quarter of a teaspoon of turmeric and need equal amounts (half teaspoon) of each of the following:
onion powder, cumin, coriander, paprika, salt, and pepper.
3Sliced garlic
Take four cloves. To make the flavor milder, choose slicing over mincing.
4Chicken broth
Half a cup of broth is necessary to make the sauce. It is poured into the skillet at the final stage. Make sure it is not too salty.
5Oil (or butter) for the skillet
Take 2 or 3 tablespoons per batch. Total time mins — around 15.
Nutritional Value of Chicken Thighs in Skillet
This dish is a healthy, nutritious, and affordable option that will deliver a substantial amount of protein into your system. Note that the amount of fat is usually higher than for chicken breasts, particularly if you do not take the skin off. In terms of nutritional value, one serving of 3.5 ounces (100 g) contains around 210 calories (53% and 47% from protein and fat, respectively), 26 g of protein, and 11 g of fat.
Equipment
To cook the thighs, you will need a stove, a skillet, a small bowl to mix the seasoning in, a teaspoon and a tablespoon, a spatula or kitchen tongs, and a cooking thermometer (optional).
How to Cook Chicken Thighs in a Skillet
This dish is easy to make, and it will only take around 15 minutes (a few minutes for preparing the seasoning and rubbing it in, 5 minutes for searing the first side, and 5-7 minutes for the other one). The seasoning will give your chicken a wonderful flavor, smokey and sweet. Your thighs will be golden brown, juicy on the inside, and crispy on the outside. It is very important to get rid of extra moisture, so they do not get soggy. Learn how to cook chicken thighs in a skillet below.
Steps for Cooking Skillet Boneless Chicken Thighs
1Mix the spices together. 2Trim off any excess fat from the thighs. 3Using a paper towel, tap them dry very thoroughly. Moisture inside the meat may prevent it from getting crispy. 4Rub the mixture of spices into the thighs on all sides with your hands. 5Pour two or three tablespoons of olive oil into the skillet and heat it up. The oil must cover the bottom evenly. 6Put the thighs into the skillet with the smooth side down. 7In 5 - 7 minutes, flip the thighs. At this point, they should unstick from the oiled surface on their own. The thicker the thighs, the longer you need to wait. 8After flipping, keep cooking the meat until it heats up to 175° Fahrenheit inside (use a thermometer to measure), or its juices become transparent. 9Sprinkle the thighs with garlic and cook for half a minute more until they become fragrant and golden. 10Pour in the chicken broth for deglazing and wait for the juices to thicken a bit (2 more minutes). 11Serve your delicious skillet-fried chicken thighs!
How Long to Cook Chicken Thighs in a Skillet?
Just 15 minutes on average! When the juices lose color, you know your dish is ready. Another reliable sign is that the meat stops sticking to the surface of your skillet. When it is ready, it comes off effortlessly. Carbon steel is great for fans of crispy chicken thighs skillet recipes. To eliminate the guesswork, buy a meat thermometer. This handy device will let you know when your chicken is ready. The temperature inside the thickest section of each thigh must be 165° F or higher.
What to Serve with Chicken Thighs?
This dish is compatible with a wide variety of side items, from potatoes to broccoli to pasta. The internet has a dazzling array of recipes for every taste and budget. Here are some of the most popular dinner options that go particularly well with our easy skillet chicken thighs:
mashed potatoes, mashed cauliflower, roasted vegetables (for example, garlic roasted potatoes or pan-roasted Brussel sprouts)steamed vegetables, steamed vegetables, sauteed vegetables (for example, green beans), sauteed mushrooms, coleslaw and other salads like the Mediterranean salads, Fattoush, or Couscous Salad, grains like cauliflower rice, risotto, or Lebanese rice.
Tips for Easy Skillet Chicken Thighs Searing
A carbon steel skillet is a great choice for chicken searing. Although simple, this dish has a few intricacies in terms of techniques and seasoning. To create a delicious and nutritious meal easily, follow these recommendations from culinary experts.
Do not sprinkle the seasoning on top of your thighs. Instead, rub it in well. Otherwise, it may simply fall off when you transfer the pieces into the skillet. Let the poultry sit with the seasoning for a while. Even though the recipe includes a dry rub, longer marinating will boost the flavor. Allow at least half an hour for this. You can leave the chicken in the marinade for up to 24 hours to maximize the effects. Wait for the skillet to heat up properly before putting your chicken thighs inside. High temperature provides even browning. If you put the meat in too early, it will just get soggy. The chicken will boil in its own juices instead of getting crispy. Allow enough space for the chicken to cook and brown on all sides. This means cooking three or four pieces simultaneously to avoid overcrowding your skillet. Otherwise, the juices from the meat may start to evaporate, and this steam may be detrimental to the quality of the searing. Be patient and let each side cook fully. It will unstick from the surface naturally. If you keep turning the thighs while they are cooking, they may not brown properly. When you use a carbon steel skillet, it is less important, but still worth noting. Although the dish is mouth-watering, do not rush to cut the thighs prematurely! Do not do this immediately after cooking them. Instead, allow the meat to rest in the nutritious juices for about five minutes to absorb them. This will make the texture more tender. Otherwise, the juices may escape, so the dish will be dry.