At a certain point, every owner of a carbon steel wok starts trying to cook various Chinese meals. And fried rice in a wok is one of the easiest dishes to cook. It is not only nutritious but also beneficial for health since this meal is cooked with plenty of vegetables. And a wok is perfect for roasting veggies! Everything is prepared quickly and does not require a lot of oil. The dish turns out to be bright, tasty, and satisfying!
Wok-fried Rice: Cooking Specifics
It is easier to cook fluffy rice in a wok than in a regular pan, but this method does not guarantee one hundred percent success if you do not know a few useful recommendations and do not follow the technology of the fried rice wok recipe. Only compliance with all technological requirements will lead the culinary specialist to the desired result. So, here are useful tips on preparing fluffy wok-fried rice:
Basmati and Jasmine rice varieties are the most suitable for preparing fried rice, they do not stick too much during cooking and at the same time have a pleasant aroma, which makes the rice dish tasty even without adding spices. Other varieties of long-grain rice usually do not stick together during cooking, so they are also suitable for these meals. If you want to fry round grain rice, it must be rinsed not only in cool but also in warm water. Before cooking in a pan, brown rice must be soaked for several hours. When choosing rice, pay attention to its quality. If you see that there are a lot of small crumbs in a pack with rice, the grains themselves are chipped and have suspicious spots on the surface, it is advisable to refuse the purchase. It is also necessary to pay attention to the shelf life of the product. Before preparing rice, you need to sort it out and rinse it until the water flowing from it remains clear. Rice groats are washed not only to clean it of dust but also to remove starch from its surface, due to which the grains stick together during cooking. The exception is risotto, for the preparation of which the rice does not require washing since the dish should be viscous.
How to Make Fried Rice in a Wok: Useful Recommendations
The technology of cooking fried rice has its own specifics:
First, it is necessary to cook vegetables or other products that are included in the list of ingredients. After, you need to add the rice, which is also sometimes fried. Then pour water and cook the dish at low heat under a lid. Do not open the lid for at least the first 15 minutes of cooking so that the rice is steamed, but the water does not evaporate during this time. Sometimes, the rice cooking technology may be different. Preliminary cooked vegetables can be added to rice when it is almost ready. Whatever recipe you have chosen, you need to add only hot liquid (water or broth). Turmeric and sage will help give the rice a yummy yellow color, but these ingredients should be used in moderation. You can change the taste and aroma of rice by adding various spices and herbs, fresh or frozen vegetables. Preference is given to fairly hard vegetables: different types of cabbage, onions, carrots, green peas, corn, green beans. You can also use Brussels sprouts, zucchini, or cherry tomatoes. Mushrooms can be added to the wok if desired.
As you can see, cooking Chinese fried rice wok allows for your creativity. You can experiment with ingredients, sauces, and spices, try different kinds of rice and vegetables. Following the above recommendations, you will be able to cook really fluffy rice in your carbon steel wok.
Fried Rice Wok Recipe: Easy and Fast
We have chosen one of the simplest fried rice wok recipes to get started. Prepare the following ingredients:
1 cup of rice 2 cups of water 400 grams of chicken Pepper — 1 pc Carrot — 1 pc Onion — 1 pc Vegetable oil Soy sauce Sesame Green onions
Cooking Fried Rice in a Wok with Chicken: Steps to Follow
It is an easy chicken fried rice recipe wok. So, here are the steps to take:
Fry the rice in vegetable oil in a wok until slightly golden brown, add water, close the lid and cook at low heat until the water is completely absorbed. Meanwhile, chop the chicken and fry in a separate skillet for 10 minutes. Cut pepper and carrot into strips, the onion — into half rings. Remove the chicken from the skillet and put the vegetables there, sauté them until half cooked for 5-7 minutes, so that the inside is firm, al dente. Combine chicken, vegetables, rice in a wok and stir. Add soy sauce to taste. Garnish with sesame seeds and chopped chives.
The dish is ready, bon appetit!
Easy Chicken Fried Rice Recipe for a Wok: Option 2
If you have already understood how to cook fried rice in a wok, you will be able to experiment with ingredients. The previous recipe had a few kinds of vegetables and is really quick to cook. Here is another way to cook rice with chicken in a wok. The range of suggested spices can be expanded depending on your tastes. Prepare the ingredients for cooking chicken and rice:
Chicken fillet — 300 grams Long grain rice — 150 grams Onion — 1 piece Carrot — 1 piece Zucchini — 1/2 pieces Bulgarian pepper — 1/2 pieces Garlic — 1 clove Salt — to taste Ground black pepper — to taste Curry seasoning — 1/4 teaspoon Ginger Powder — 1/2 teaspoon Sesame — 10 grams Vegetable Oil — 30 milliliters Soy Sauce — 2 tbsp.
Here is the sequence of actions:
1Cut the chicken fillet into small pieces or strips. Place in a wok with vegetable oil. Fry the meat quickly in a wok and place it on a plate. 2Cut the carrots into strips, finely chop the onion and garlic. Place the vegetables in a wok and sauté until the carrots are soft, and the onions are transparent. Then add chopped bell peppers and zucchini. Simmer vegetables until they become tender. 3Then put the chicken in a wok with vegetables and add the soy sauce. Add salt, ground pepper, ginger powder, curry. 4Cook the rice in salted water until tender, then drain the water. 5Put the rice in a skillet with vegetables and chicken, stir. The chicken and rice are ready. Add sesame seeds when serving.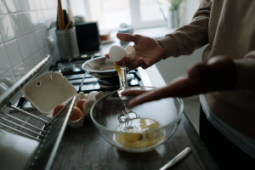 Variations of the Chinese fried rice with chicken
Of course, following the recipe is crucial, especially if you are cooking rice in a wok. But the range of ingredients and spices is subject to your creativity. You can add vegetables you like, as well as sauces you prefer. Some chefs cook rice by adding oyster sauce to it. Other recipes suggest adding scrambled eggs to the meal. More so, rice with chicken and egg is a typical Chinese dish. Therefore, do not hesitate to experiment with ingredients. Chicken with rice is always a perfect combination. You can also make its taste more exquisite by adding tomatoes to juice. For flavor and brightness, take some sweet pepper and paprika. So, here is a full list of ingredients:
Long grain rice — 150 g Chicken thighs (fillet) — 300 g (3 pcs.) Canned tomatoes in their own juice (peeled) — 400 g Onions — 80 g (1 medium-sized) Sweet pepper — 70 g (1 medium-sized) Garlic — 2 cloves Salt — 1 tsp (to taste) Ground black pepper — 0.25 tsp (to taste) Ground paprika — 1 tsp Water — 200 ml Vegetable oil (for frying) — 2 tbsp. + as needed Fresh parsley (for serving) — 10 g (3 sprigs)
Prepare all products according to the list. You can use chicken thigh fillets without bones, or you can take regular thighs with skin and bones. Here are the next steps:
1Heat vegetable oil in a wok, put chicken thighs in it, and fry at high heat for 4-5 minutes on each side, until golden brown. Then transfer the chicken to a plate. 2While the thighs are being prepared, peel the onion and cut it into medium pieces. Peel the garlic and cut it into thin slices. Peel sweet peppers from seeds and stalks, rinse and cut them into strips. 3After preparing thighs, add vegetable oil to the wok if necessary, put onions, peppers, and garlic. Fry at medium heat for 5 minutes, until vegetables are soft. 4Rinse the rice under running water until it is clean and add to the wok. Add salt, ground paprika, and pepper. 5Then add canned tomatoes, along with juice and 200 ml of water. Stir everything gently. 6Put the fried chicken thighs in the wok, slightly drowning them in the liquid. Cover the wok with a lid and cook the contents for 25-30 minutes over low heat, until the rice and chicken are cooked. 7Rinse the parsley, dry, and chop finely. Scatter chopped parsley over cooked rice with chicken and vegetables in tomato sauce. You can serve the dish with fresh vegetables or herbs.
Chinese Fried Rice Wok: Is Anything Else Needed?
We have provided you with two recipes of how to fry rice in a wok and one recipe in which separate preparation of rice in a pan is foreseen. After trying these two approaches, you will be able to determine which of them is more convenient for you. In any case, you will need a basic set of kitchen utensils and a wok. Before you proceed to cook fried rice, make sure that your wok is properly seasoned. In this way, you will not need to use extra oil, and there will be no problems with the rice stuck to the surface of a wok. Enjoy the process of cooking and the meal!